DiGiCo, Latin Grammy Awards Show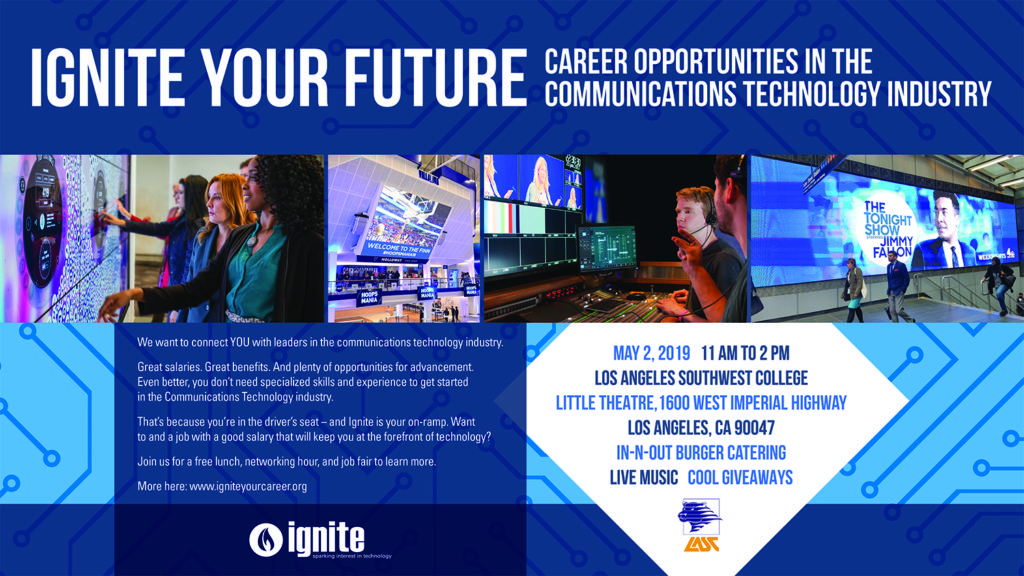 Ignite, an initiative established by the NSCA Foundation to raise awareness of the communications technology industry, will host an event May 2nd, 2019 at Los Angeles Southwest College. 

Los Angeles Southwest College is part of the Los Angeles Community College District (LACCD), the largest college district in the United States and is one of the largest in the world. The LACCD consists of nine colleges and covers an area of more than 882 square miles. The entire LACCD is invited to the event and a projected 200-300 students will participate.

The event, Ignite the Future: Careers in the Communications Technology Industry, kicks off with at 11 AM with an interactive panel of communications technology people sharing how they've charted their own professional paths, followed by a question-and-answer session for students.

At noon, students will be invited to a two-hour informal career fair sponsored by local integration companies AVI-SPL, Cleartech Media, Diversified and Lightwerks.

Burgers, fries and drinks will be provided by In-N-Out Catering. Music will be provided by DJ Tessa, courtesy of QSC and the Harman Technology truck will be onsite for tours and demonstrations.

A special shout out to all of our sponsors – alliantgroup, Almo, AVI-SPL, Diversified AV and Lightwerks. We couldn't do this without you!

About Ignite
Ignite, an initiative established by the NSCA Foundation, is the industry's on-ramp to a career in communications technology. Ignite brings students, graduates, educators and employers together to recruit and cultivate a new generation of leaders in fields ranging from AV and communications, to security, life safety systems, and IT/networking solutions. For information contact Kelly Perkins at kperkins@nsca.org.